It only takes six weeks. Do you need more coaching time than that? Absolutely not!
You need proof?
Who doesn't find it motivational to lose weight fast? In case you're worried, research actually proves that long term weight maintenance success is better with fast cyclical dieting than long term slow, steady dieting.
So here is what I promise my clients when they sign up.
When I coach my clients online, I assure them that in the 6 week coaching program we will achieve the desired results you set yourself (providing adherence is on point and targets are realistic), but most importantly –
– I will teach you everything you need to know to go on and lose any extra weight you may need to lose – I will give you a clear plan of action.
– What foods are required for optimal female health.
– What foods can accelerate your fat loss.
– What exercise is required for you! In order to get that lean, toned physique.
– How to maintain your weight loss
– How to create a 'healthy balance" in your diet.
– Get over cravings.
– Overcome emotional eating.
– When the target is reached I will give you a reverse dieting plan to ensure weight maintenance is achieved now and forever.
– How to stay motivated when results don't go your way.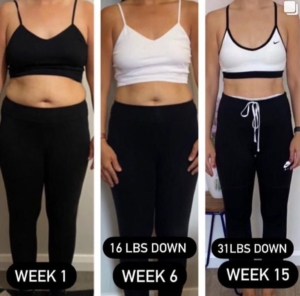 Client Proof
This busy young mum only had the financial means to avail of my 1-1 online coaching for 6 weeks. During our 1-1 online period, we set about working on her nutritional education whilst she set a target fat loss of 10 lbs in 6 weeks. During lockdown she had no access to a gym, so I created a bespoke program for her to do at home, based on her fitness levels and available time to exercise. She checked in with me every day to ensure she was on point with food quality and fat loss goals. I updated and tweaked when necessary and I spoke to her every week for a check in, where we discussed all aspects of her program, what to improve, what changes to make and empowering her on how she can achieve any goal she sets her mind on. Motivation, as I assured her ,will eventually come from within and this will take her to her goals beyond her 6 week coaching program.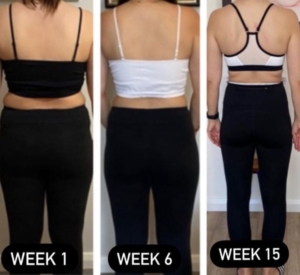 After 6 weeks she achieved 15lbs weight loss. 5lbs more than her original target.
I'm even more proud to say that after 15 weeks she has achieved her ultimate goal. 32lbs off and she feels amazing.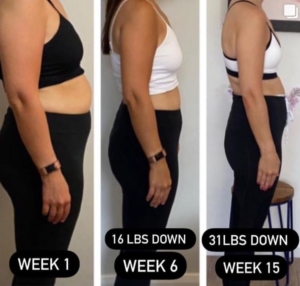 If you feel you would need me for 1-1 coaching for fat loss and fitness – I am a registered Nutritionist and fully qualified Personal Trainer – then reply to this email for more details. Places book very fast as I can only take on so many clients each week.