Those are the words of a lady named Eimear, who just completed my last Bootcamp.
She has signed up again so I am excited to see her progress with the team and me over the next 6 weeks!
A few days ago, we were chatting about the last Bootcamp when she sent me this message,
"I loved the programme and looking forward to continuing. I am 18 lbs down and a fitter, healthier me. Bigger size jeans in the bin and new healthy habits forever. Roll on a much happier mummy come the summer with my children. Thank you."
I just loved that line, "Bigger size jeans in the bin," and knew I had to share it with you!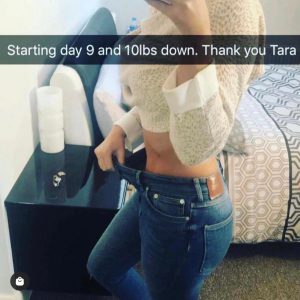 Imagine the feeling she had of going through her wardrobe and taking out her go to "BIG" jeans and chucking them in the bin!
It must have felt amazing. I was so proud of her!
The truth is, she was just like you before she started, nervous, apprehensive – honestly, she nearly talked herself out of doing it!
But she had been following my page for a while and knew from the advice I shared and the fantastic results I got with my clients that I could help her achieve her goals!
And here she is 6 weeks later, buying new jeans, feeling confident and ready to do another 6 weeks to achieve a new set of goals!
I know how hard it is to start something new, but the truth is, if you don't make that commitment, back yourself, and get the help you need to lose weight, you will be sitting here in 6 weeks, no further forward, regretting your procrastination!
Join me for the next 6 week Bootcamp and you could be throwing your 'Big' Jeans away too!