Its that time of the year!
Have you postponed improving your diet and fitness until next month?  Do you constantly tell yourself things like:
"When I'm in a better routine"
"When the kids go back to school"
"When I go back to work"
"When the bank holiday weekend is over"
"When my husband stops working late"
…Blah….Blah….Blah
Look, there is no clear path ahead!
There is no correct time!
Life will always throw curveballs into your path to distract or derail you. It's called LIFE!
You have to start NOW.
YOU HAVE TO NAVIGATE YOUR WAY AROUND LIFE AND STILL SUCCEED.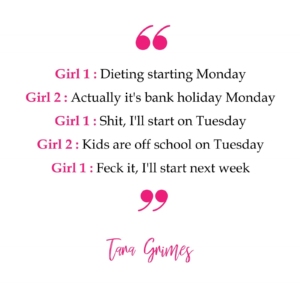 During Lockdown, I coached women who had no time, every excuse not to start – they had kids who needed help with homeschooling, they worked full time from home – it looked like all the odds were set against them. Yet through coaching, they still managed to lose weight and get fitter. They made it work, they created a balanced lifestyle.
On Monday , I have space for 3 women to participate in my 6 week 1-1 online private coaching.  I will provide you with absolutely everything you will ever need to know to lose weight, keep it off and get in the best possible shape of your life.  All whilst 'doing life'.  
This is on a first come basis,  so respond to this email now to figure out how you can get started.